We recently ran The Big Art & Expression Competition across Camp Australia nationally.
The competition was part of our Your Creative Kids in-service programming initiative, giving children a multitude of creative experiences.
The Big Art & Expression Competition was designed to encourage children to express themselves through art and to let their creativity shine through. There were three major prizes up for grabs for the entries that received the highest number of votes from the entrant's family and friends.
The timing of the competition gave children an outlet to let the imagination run wild, particularly during the challenging times that this year has presented them with.
We applaud children's positivity and resilience, having read their entry descriptions as detailed in the word cloud below. The use of words such as love, happy and colour were a common theme.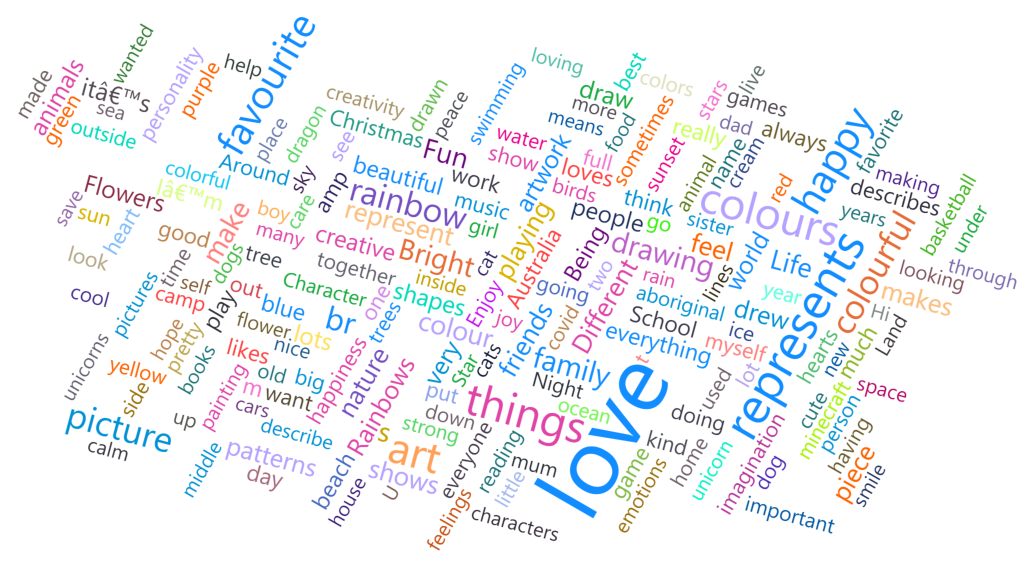 The benefits of art is enormous and we would like to thank all children, plus their supportive parents and family and friends who voted for their creation. We would also like to acknowledge our partner schools and Educators who guided children through the process of ideation and creation.
All entries were spectacular in their own unique ways, and we could not be prouder of the children who participated. They are all winners in our eyes!
With over 2,200 entries, creating a staggering 21,000 votes throughout the ten-day competition, The Big Art Competition will make an appearance in the future!