Social inclusion occurs when individuals or minority groups feel valued and are able to participate in society. Often, a sense of belonging occurs when social inclusiveness exists. Outside School Hours Care provides an environment that gives children the confidence and enables a sense of belonging.
Respecting all cultures
All cultures are celebrated and respected in before and after school care. Cultural diversity allows educators to open up discussions with children about what is important for the families attending and their values. Children are culturally aware and our discussions bring about many questions for children to enhance their knowledge.
We celebrate days of significance and give children the opportunity to participate in activities that highlight various aspects of different cultures.
Creating an environment to ensure the inclusion of children with additional needs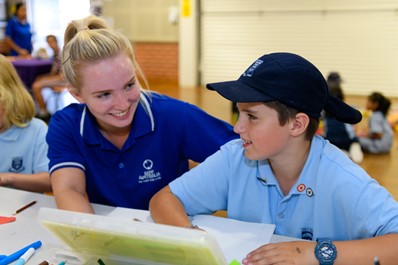 In Outside School Hours Care, we create an environment where we ensure the inclusion of children with additional needs.
Additional needs come in many forms, including disabilities (physical, intellectual, mental and medical), living in complex or vulnerable circumstances and varying cultural, linguistic or family backgrounds.
Providing inclusive care promotes participation, learning and development, which often leads to a sense of belonging. At Camp Australia, we are committed to working with children, families and schools to provide a tailored approach within our Outside School Hours Care services by understanding and supporting those with additional needs.
We partnered with industry experts to help our teams address the growing need to provide an inclusive environment for children with additional needs. We worked with Andrew Fuller, a leading clinical psychologist and author who specialises in the wellbeing of children and families to develop a tailored industry-leading framework, called the CARE Program.
The CARE Program is part of an overall strategy to promote inclusion and is a dynamic process that is constantly evolving. The CARE Program was recently awarded a Business Innovation Award in the 2020 Australian Business Awards.
Tailoring programs for different interests
Our services are tailored to the children attending and programming reflects their interests. Our team is dedicated in developing engaging activities that meet the interests of all children. Activities are organised based on the needs of the service. Educators work closely with children, families and schools to determine the type of activities that will engage children and help them to develop and grow.
Before and after school care offers various spaces to cater for different activities, where children are able to choose what appeals to them. There are, for example, spaces to play games, read and create artwork, to name a few.
Children have shown great resilience throughout the year and our recent initiative, The Big Art & Expression Competition, was open to all children attending Outside School Hours Care. The competition saw over 2,200 children participate and was the perfect outlet for them to unleash their inner creativity.
Social Inclusion Week is celebrated from 21st – 29th November across Australia. This is a great opportunity for our services to discuss with children the importance of social inclusiveness. To learn more about the benefits of Outside School Hours Care, visit www.campaustralia.com.au.