Frequently Asked Questions
Find information on Holiday Club Online sessions
How do I book into Holiday Club Online programs?
All bookings must be made through the Parent Portal. You must first register an account with Camp Australia which is a one-time process and can take up to 10 minutes, if you are not an existing customer. Then, visit the Parent Portal and click on 'Holiday Club Online' in the side menu.
From here, you can see our full schedule of activities. On an activity you'd like to book, simply select which child you would like to book in and click 'Add'. This will add this session into your cart, which is visible on the right of your screen. Once you have added all the sessions you would like to book, click Checkout in the cart section, which will take you to the confirmation page.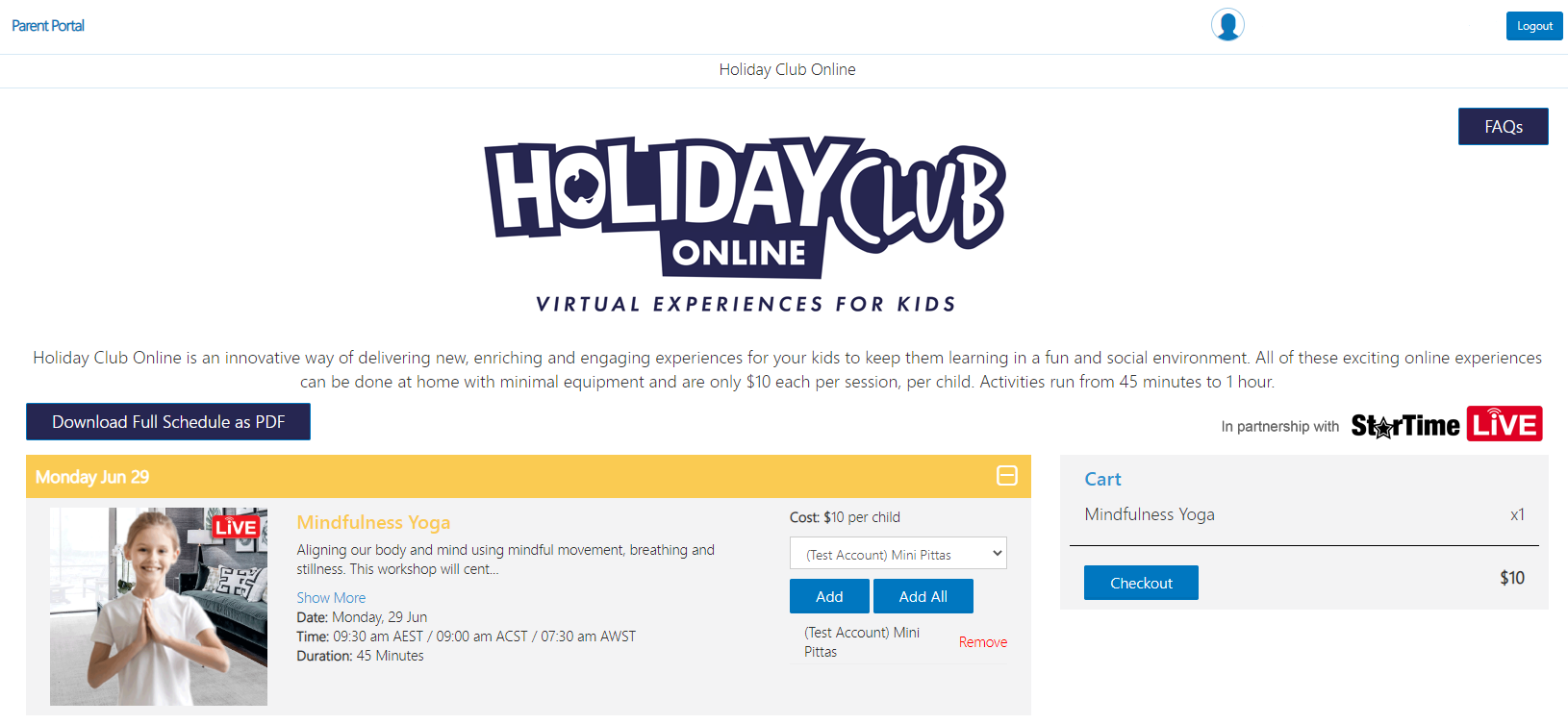 If you need help in registering an account, feel free to contact our friendly customer care team on 1300 105 343. They are available from 5:00am – 9:00pm AEST 7 days a week, except National Public Holidays.
How do I cancel a booking?
In the Parent Portal, under the Online Experiences tab, it will remember your bookings and highlight your booked child/ren underneath the activity. See below: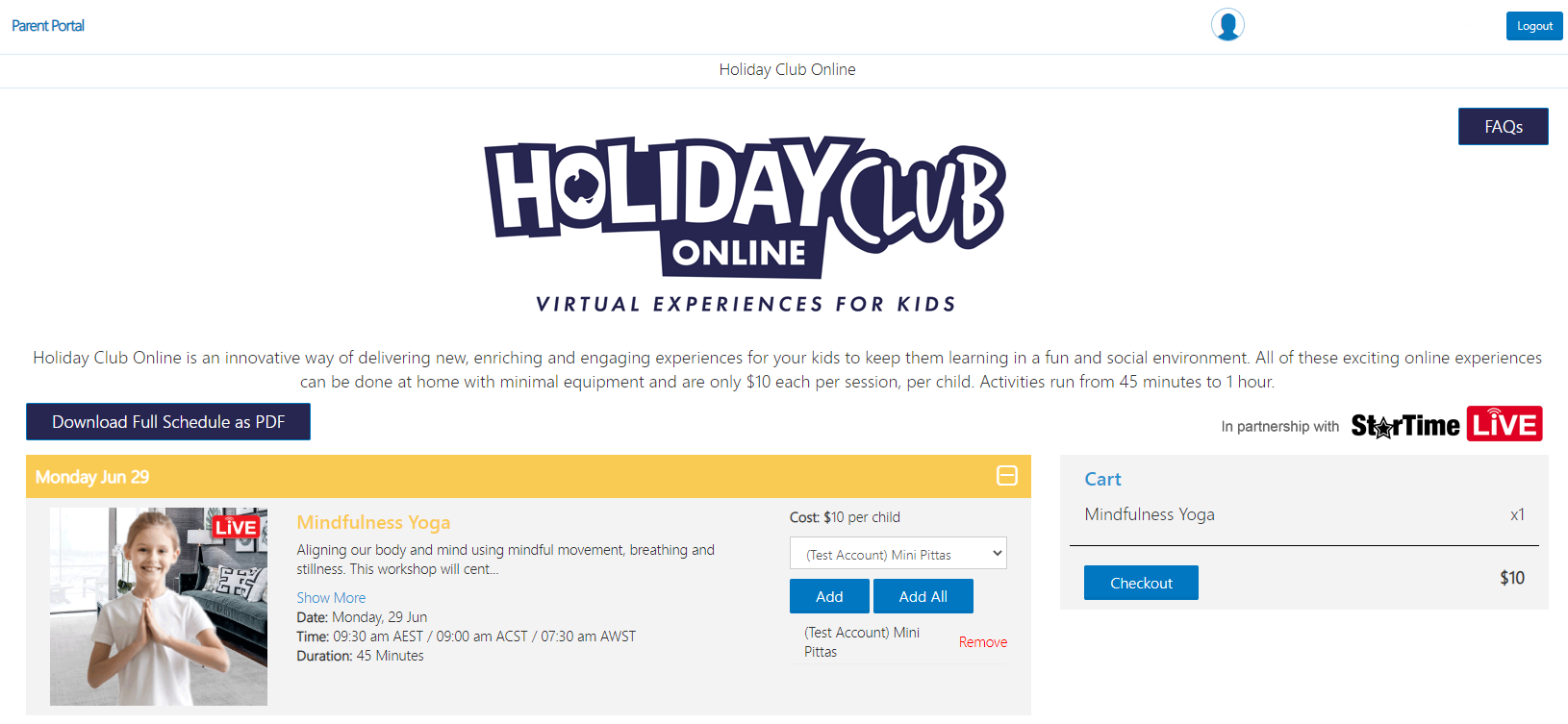 If you would like to cancel a booking, just click the little 'remove' button next to your child's name underneath the activity that you would like to cancel, and a pop-up message will appear: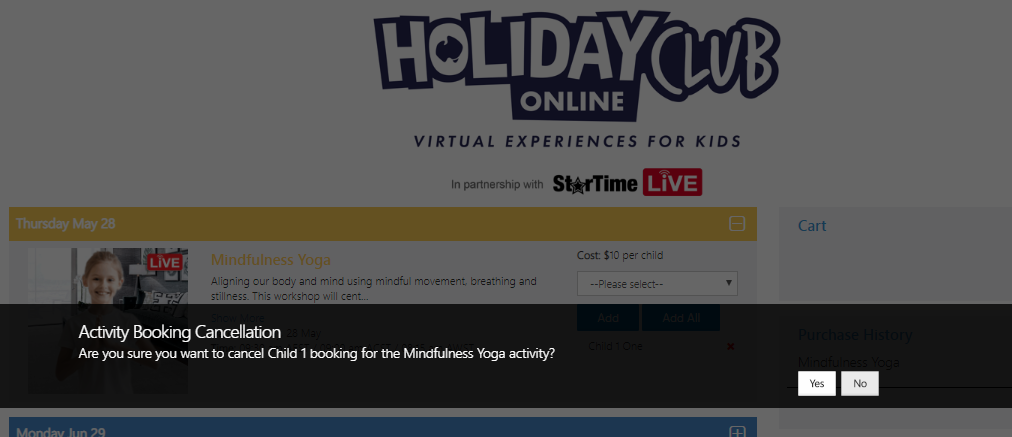 Once you confirm the cancellation, you will receive a confirmation email letting you know that the booking has been cancelled.
I didn't receive the confirmation email / session details of my child's enrolment.
You should receive the booking confirmation email immediately after a booking has been made. If not received, please check your Spam/Junk folder. If it is not there, please email [email protected] or call us on 1300 105 343. The session details, with the zoom meeting link and password, will be shared at 12:00pm AEST, the calendar day before the program. If you do not receive this email, please contact us on 1300 105 343.
Can I book my child into a session on the day of the program?
Yes, registrations will close half an hour prior to each session/program. However we recommend you get in your bookings early as we have limited spots available per program. Booking in early will also help to ensure you are prepared with any resource/technology requirements for the program.
Can I book my child into multiple sessions?
Yes. You have the flexibility to register your child into either one, or multiple programs across the whole holiday period. Simply add the desired programs in the cart on the parent portal and proceed towards finalising your bookings.
Are there any discounts applicable for multiple session enrolments or sibling discount?
No, all online programs are a flat fee of $10.00 per child per program.
Is Holiday Club Online eligible for Child Care Subsidy or Free Childcare Package from the Government?
No. Each session is charged at $10.00 per child per session, and that amount is to be paid in full.
How old does my child need to be to attend?
The workshops are designed for primary school aged students (5-12 yrs. old). However, children of all ages are welcome to attend if you deem it appropriate.
Are the resources/material required for the programs to be arranged by families who book?
Yes. Prior to each session, please ensure that you have collected all required materials and resources, as outlined in your confirmation email, in the Parent Portal and on the public website for your child to have the best program experience. Any changes to program requirements will be communicated to you via email. No refunds are applicable if these were not sought out prior to the session.
How do I prepare to ensure my child has a smooth online experience?
Here's the steps you need to take to access the session which is conducted through StarTime LIVE: 1. Download the Zoom App onto a computer / laptop. (Please update to the latest version of Zoom if necessary) You can download the Zoom app onto an iPad if you don't have a computer available, but please check the individual session requirements as some sessions require the attendee to use a separate mobile device to participate in the activity. Please ensure you are using the SAME email address for registering into the Zoom app which was used when registering for Holiday Club Online sessions. Your child will then be easily identifiable as an approved attendee and will ensure you enter the session without any problems. 2. Set up the space in which your child will be using during the session, ensuring it is: a. Physically Safe - eg: no dangerously stacked furniture nearby. b. Clear of anything private that you don't wish to be seen in the background c. Has enough light. Ensure that your device that has Zoom on it is set up so there is no sunlight streaming directly onto the screen, or has any reflections from light streaming through nearby windows as this makes it very difficult for your child to be seen by the group and difficult for your child to share their demonstration of work with the group effectively. 3. Attendee's need to dress appropriately for an active session. Some sessions are more active than others, so it's important that children can move freely ie. no dresses / skirts. 4. Your child is briefed about expectations of behaviour within the session. Ie: StarTime always promotes positive, respectful and supportive behaviour towards the presenters and any other children attending the session.
What is the cancellation/refund policy for Holiday Club Online?
We ask that you provide as much notice as possible when cancelling or amending your booking for a StarTime LIVE workshop. Any booking amendments or cancellations will be closed at 9:00am (AEST) the calendar day prior to your booking. After this time, no cancellations or amendments will be accepted by Camp Australia and all bookings are non-refundable. Also, any additional bookings made after 9:00am (AEST) the calendar day prior to your booking cannot be cancelled and are non-refundable. All booking amendments and cancellations must be actioned via the 'Holiday Club Online' tab in the Parent Portal. If you are absent for a StarTime LIVE workshop that you have registered for, and have not cancelled such registration prior to 9:00am (AEST) the calendar day prior to your booking, you will not be eligible for a refund. Camp Australia reserves the right to cancel a StarTime LIVE workshop for reasons beyond our reasonable control. If this happens, all fees will be fully refunded.
How do I change or cancel a booking?
All booking amendments and cancellations must be actioned via the 'Online Experiences' tab in the Parent Portal.
Are Holiday Club Online programs being recorded?
Yes, the programs are being recorded for sharing with the families attending the relevant Holiday Club Online session and for training purposes on StarTime's end. These recordings may include images, video and/or audio of you and/or your child. If you do not wish to be recorded, please turn off your camera and/or audio during the session.
Is the program recording available after the session?
Yes. The recorded session details will be shared within a week of the program completion. This will be accessible throughout the holiday period.
How am I billed for Holiday Club Online programs?
All programs of Holiday Club Online are charged to your Camp Australia account and will be direct debited as per our standard billing process. In the checkout section, families will be able to choose from their preferred payment method.
Will I be charged an Enrolment Fee if I have signed up to only use Holiday Club Online?
No. Any bookings into Holiday Club Online will not trigger an enrolment fee.
Can I leave my child unsupervised during the online program?
By registering for a StarTime LIVE workshop(s) and by having any children in your care participate in any of the StarTime LIVE workshop(s), you acknowledge and agree that: a) you have a duty of care to, and are solely responsible for the supervision of, any children attending the StarTime LIVE workshop(s) whilst under your care; b) you are aware of your responsibilities as a carer for any child participating in the StarTime LIVE workshop(s) and that you shall act in accordance with the same. c) You indemnify Camp Australia and StarTime against any claims however arising as a result of any children under your care participating in a StarTime LIVE workshop(s).
Who do I contact in case I have additional questions?
You can either email us on [email protected] or call us on 1300 105 343