The Experimental Cookbook showcases a selection of family-friendly recipes, including delicious cakes. Substituting some ingredients for healthier options, we challenge you to get busy in the kitchen for a bake-off! Here are some recipes that were submitted by some talented Outside School Hours Care children.
Aaradhiya's Fudgie Brownie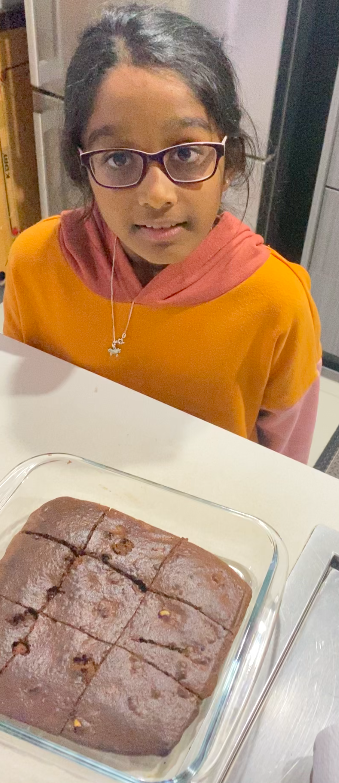 Makes 8-10
Ingredients
150g butter, melted
3 eggs
5 teaspoons cocoa powder
1 cup plain flour
1 teaspoon vanilla extract
a handful mixed nuts, chopped
Instructions
Preheat oven to 180°C.
In a bowl, add melted butter, sugar and the eggs then mix well.
Add vanilla extract and cocoa powder and continue stirring.
Then stir through the flour, be careful lumps don't form.
Line a baking tray with baking paper and add the mixture to the tray. 6. Sprinkle mixed nuts over the batter and bake for 20 minutes.
Ingredient swap: Swapping all-purpose flour for wholemeal flour adds extra dietary fibre which is important for good bowel health.
Did you know? Aside from being a source of antioxidants, chocolate has also been found to help lower blood pressure and even increase good cholesterol.
"I love eating desserts, especially the brownies with ice cream. I got tired of asking my mum to buy brownies for me. When she hesitated to buy me brownies, I decided to read the recipies and make my own brownie." – Krishnan, NSW
Archie's Packed Banana Bread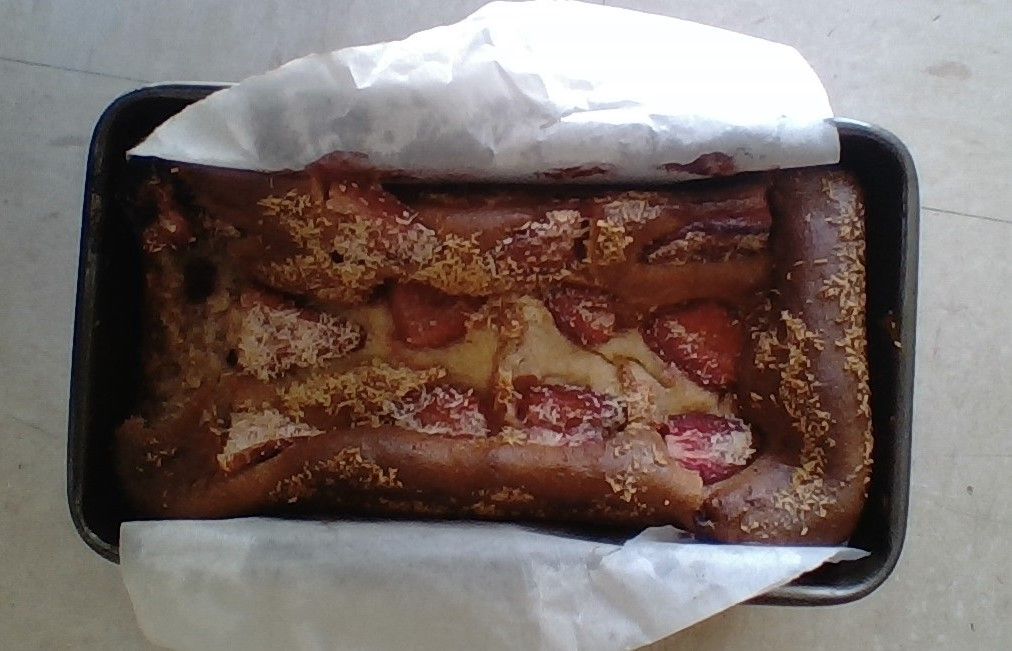 Ingredients
1⁄2 cup frozen blueberries
130g unsalted butter (softened) (+extra for greasing pan)
350g ripe bananas
150g caster sugar
220g plain flour
2 teaspoon baking powder
pinch of salt
1 teaspoon bicarbonate soda
2 eggs
100g buttermilk
2 teaspoons vanilla essence
1⁄4 cup desiccated coconut
5-6 strawberries, sliced in half
Instructions
Pre-heat oven to 180°C.
Grease a loaf tin with some butter or margarine and then line it with baking paper, overlapping the edges (this makes it easier to remove the banana bread).
Put bananas into food processor and whiz until they are pureed (about 5-10 seconds) or mash well with a fork in a bowl.
Add butter and sugar to bananas and whiz together to mix well, then scrape down sides. Or using a wooden spoon, mix well in the bowl.
Add eggs and whiz again to mix thoroughly (about 10 seconds). If using a bowl, add eggs and beat until all is thoroughly combined.
Add plain flour, baking powder, salt and bicarbonate soda, buttermilk and vanilla essence to mixture and whiz until well combined (about 20 seconds). If mixing in a bowl, get beating with the wooden spoon again until well combined.
Put mixture into the prepared tin and put in the oven.
Bake for 45-60 minutes until browned and the cake springs back to the touch. You can use a skewer pushed into the cake - if it comes out clean, the cake is done!
Leave to cool in the tin before turning out.
Ingredient swap: Use 100g sugar instead of 150g - you won't notice the difference, especially if your bananas are nice and ripe! The riper the banana, the sweeter it will be, and less sugar is needed.
Tips: To make the cake egg-free, use 2 tablespoons of flaxseed with water to make a gel paste and use in place of eggs. If you don't have buttermilk, you can make your own! To 1 cup of milk, add 1 tablespoon of lemon juice or vinegar. You can use any type of milk to make it dairy free! If bananas are riper, they will be sweeter because the starch is converted to sugar by the enzymes in the banana.
Did you know? If bananas are riper, they will be sweeter because the starch is converted to sugar by the enzymes in the banana.
"A yummy breakfast, snack or dessert!" – Archie, NSW
Aryan's Apple Cake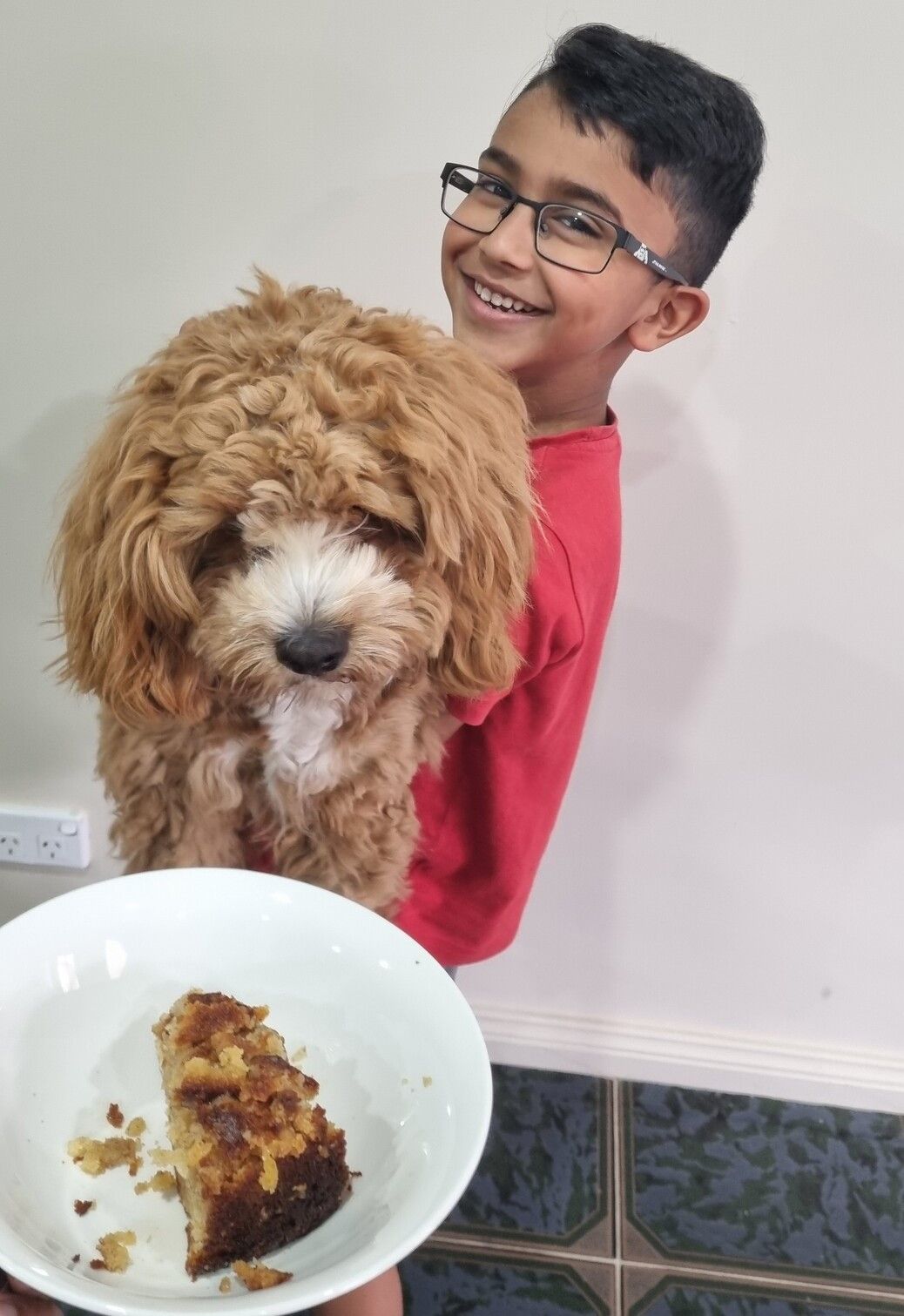 Ingredients
1 cup plain flour
2 teaspoon baking powder
1⁄2 teaspoon baking soda
1 teaspoon ground cinnamon
100g caster sugar
1 cup peeled & roughly chopped apples (I used 3 apples, cos I want to finish all the apples at home)
2 eggs
1 teaspoon vanilla extract
1⁄2 cup vegetable oil
1⁄2 cup Greek yogurt
Ingredient swap: Reduced the sugar amount with more apples for sweetness. Also added yoghurt to make the cake extra soft.
Instructions
Preheat oven to 180°C.
Grease round cake tin with a touch of oil and baking paper.
In a mixing bowl add flour, baking powder, baking soda and sugar.
Add chopped apples and combine.
In another bowl, whisk eggs, vanilla extract, oil and yogurt.
Add the yoghurt mixture to the flour mixture and gently mix until combined. Make sure you don't over mix – it will become too dense.
Bake cake for approximately 30-35 minutes or until a skewer inserted into the middle comes out clean.
Enjoy once it's cooled down.
Did you know? Yoghurt is produced by bacterial fermentation of milk. The bacteria used to make yoghurt are known as yoghurt cultures which are the 'good bacteria' responsible for a good gut flora.
We had a lot of apples in the fridge. And I LOVE desserts and cakes. – Aryan, NSW
Chocolate Slice
Ingredients
200g dark cooking chocolate
1⁄2 teaspoon baking soda
200g pitted dates
200g roughly chopped walnuts
3 eggs
1⁄4 cup melted coconut oil
1 teaspoon vanilla extract
You can add sprinkles, popcorn, banana, marshmallows, or other dried fruit to the mixture. I love eating this with yoghurt and strawberries.
Ingredient swap:
Instead of flour we use dates.
Instructions
Preheat oven to 180°C.
In a food processor, mix the chocolate and baking soda until it looks like coarse sand.
Add dates and mix again.
Add eggs, vanilla essence and coconut oil and mix again.
Place in a baking paper lined 20cm x 20cm pan.
Bake for 15 minutes.
Press walnuts onto the top of the mixture and bake for another 15 minutes. 8. Remove from oven and let rest in tin for about 30 minutes to an hour.
Remove and cut into desired slices.
Keep in an airtight container in fridge for up to a week.
Did you know? Dates are high in dietary fibre. Dietary fibre is important in our diets as it helps with using our bowels (going to the toilet).
"I love chocolate cake - but it's a sometimes food. Mum gave me ideas to make it healthier for me and a better choice. " – Aurora, VIC
Healthy Carrot Cake
Makes 8 serves
Ingredients
2 cups almond flour
1⁄2 cup coconut flour (can swap for regular flour)
1⁄2 cup unsweetened finely shredded coconut
1 teaspoon baking soda
1 tablespoon ground cinnamon
1⁄4 teaspoon ground nutmeg
1⁄2 teaspoon salt
4 large eggs, at room temperature
3⁄4 cup maple syrup
1⁄2 cup butter (melted)
1⁄4 cup milk
1 teaspoon vanilla extract
1⁄3 cup melted and cooled coconut oil
3 cups shredded carrots, grated
Optional mix-ins
1⁄2 cup craisins
1⁄2 cup chopped pecans or walnuts
For the icing:
1⁄2 cup unsalted butter, at room temperature
200g cream cheese, at room temperature
3 cups powdered sugar
2 teaspoons pure vanilla extract
For the topping:
Extra pecans and shredded coconut
Ingredient swap:
I substituted raisins with craisins as they're healthier with less sugar.
Instructions
Preheat oven to 175°C.
Line the bottom of three 6-inch round cake pans or two 8-inch round cake pans with baking paper.
Spray baking paper and sides of pan with non-stick cooking spray or the cake is likely to stick.
In a large bowl, whisk the almond flour, coconut flour, unsweetened shredded coconut, baking soda, cinnamon, nutmeg and salt together. Set aside.
In a large bowl, whisk together the eggs, maple syrup, almond milk and vanilla extract until smooth.
Slowly whisk in the melted and cooled coconut oil until it's well incorporated, then stir in the carrots. The coconut oil should be melted but not hot - closer to room temp.
Add the flour mixture to the carrot mixture and mix with a wooden spoon until well combined. Stir in craisins and nuts.
Divide batter evenly between pans and spread out with a spatula to smooth the tops.
Bake for 22-32 minutes in the two 8-inch pans and 30-40 minutes for three 6-inch pans.
Cakes are done when you push a skewer into the cake, and it comes out clean or with just a few crumbs attached.
Allow cakes to cool completely before icing. Make your icing:
In the bowl of an electric mixer, add the softened butter and cream cheese and whip on high until light and fluffy.
Add powdered sugar, vanilla extract and milk and beat for 2-3 minutes more. To finish:
Spread half of the icing onto one cake, then layer the second cake on top of the first cake. You may need to slice the top of the bottom layer to make it fit better. Then spread the remaining icing over the top layer.
Decorate cake with pecans and shredded coconut on top.
"I love carrot cake and found this healthy version so I cooked it and loved it!" - Bailee
Marbley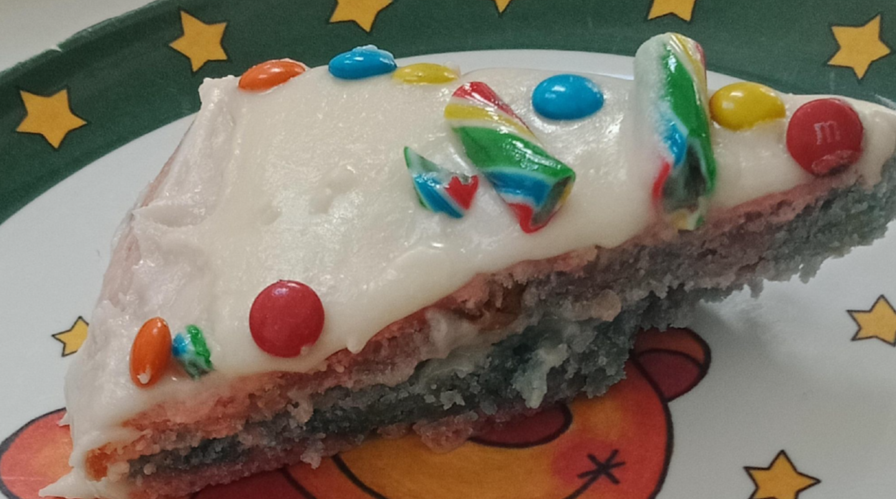 Makes 10 serves
Ingredients
Cake
3 cups flour
2 cups sugar
1⁄2 cup oats
1 cup milk
1 mashed banana
1 packet raisins (30g)
1 teaspoon baking soda
2 tablespoons butter
1 teaspoon baking powder
a few drops food colouring of your choice
Icing
3 cups icing sugar
1⁄3 cup butter
1 1⁄2 teaspoon vanilla extract
1 to 2 tablespoons milk
Ingredient swap:
Instead of egg, I used egg substitute.
Preheat oven to 180°C.
Combine the flour, sugar, oats, milk, mashed banana, raisins, butter and baking soda to a bowl and mix well.
Split half of the batter to a separate bowl and add the food colouring to one of the batters.
Grease two cake tins with butter and baking paper.
Pour half of the first batter into the tin.
Then pour half of the other (coloured) batter into the tin.
Repeat this step with the cake tin.
With a skewer or butter knife, swirl the batters to create a marble effect.
Cook in the oven for 35-40 minutes. Icing:
Combine icing sugar, butter, vanilla extract and milk in a bowl and whisk together.
When the cake is cooled, spread the icing over the cake and decorate with sliced strawberries.
"I made a marble cake. It is like a banana cake." – Nitai, NSW
Rosie's Raspberry Delight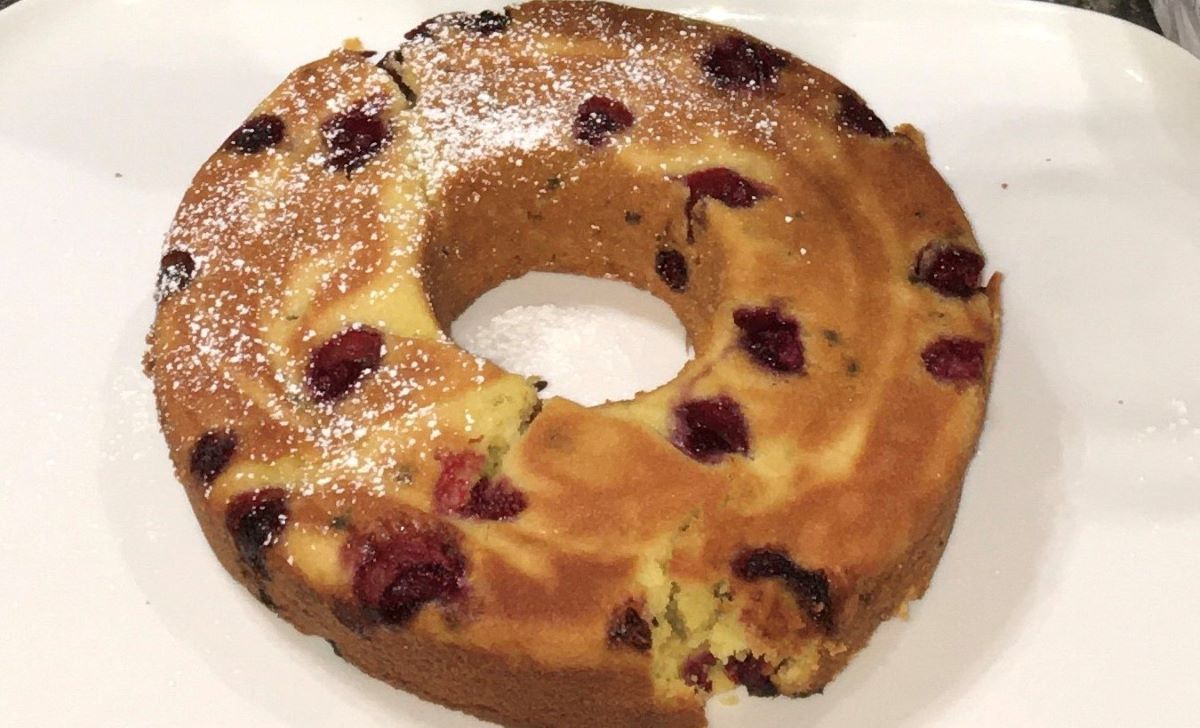 Serves 8-10
Ingredients
1⁄4 cup plain flour
3⁄4 cup self raising flour
3⁄4 ground almond meal
185g unsalted butter
3⁄4 cup caster sugar
1⁄2 cup fresh passion fruit pulp
2 teaspoons vanilla extract
2 eggs beaten
1 1⁄2 cup fresh raspberries
100ml cream (optional)
Ingredient swap:
Instead of raspberry jam I used fresh raspberries I swapped salted butter for unsalted butter. I also reduced the amount of sugar in this recipe.
Instructions
Preheat oven to 180°C.
Grease one 20-30cm donut cake tin with oil. Cut a sheet of baking paper to size and lay it on the bottom of the cake tin.
Sift plain flour and self raising flour into a bowl.
Add the mixed flour and almond meal together in a large bowl. Make a well in the middle.
Put the butter, sugar, passionfruit pulp and vanilla extract in a saucepan.
Stir saucepan over a low heat until the butter has melted and the mixture is smooth.
Pour the melted butter mixture into the bowl with flour and almond meal.
Whisk the eggs in the butter mixture until smooth.
Spread 1⁄3 of the raspberries on the bottom of the cake tin.
Pour half the mixture into the cake tin on top of the raspberries. Push 1⁄3 of the raspberries into this mixture just below the surface.
Pour the remaining mixture into the cake tin. Place the remaining raspberries on top.
Bake for 35-45 minutes or until a skewer comes out clean.
Allow to cool for 10 minutes while you clean up.
Place cake on a serving plate. Dust a layer of icing sugar on top.
Serving suggestion: Serve with a small dollop of cream or Greek yoghurt.
Did you know?
Each raspberry is made up of tiny bead-like fruits called "drupelets" clustered around it's core. Each drupelet has one seed inside. An average raspberry has 100 to 120 seeds!
"I love raspberries and wanted to make a healthier dessert than ice- cream for my family on Friday nights!" – Rosalie, VIC
Teara's Totally Wild Cheese Cake
Serves 8
Ingredients
Base:
100g macadamia nuts
150g granita biscuits
120g butter (melted)
Filling:
punnet of strawberries (diced)
1 lemon, juiced
2 tablespoons honey
500g cream cheese (room temperature)
1⁄2 cup Greek yogurt
180g white chocolate (melted)
1 teaspoon lemon rind
1 tablespoon lemon juice
2 eggs
Toppings: (optional)
sliced Turkish delight
handful pistachios
Ingredient swap: Honey was my substitute instead of white sugar because I love honey and it's a natural option. Instead of using 200g of biscuits, I added 100g of macadamia nuts to add taste and texture to the base. Substituted sour cream for Greek yogurt!
Instructions
Preheat oven to 180°C.
Combine strawberries, honey and lemon juice in a saucepan over medium heat.
Cook, stirring for 5 minutes so strawberries begin to break down. Increase heat to high and cook for 2 minutes or until sauce thickens. Set aside to cool completely.
Grease and line the base and 2 long sides of a 16cm x 26cm slice pan with baking paper, allowing sides to overhang.
Add macadamias and biscuit in a food processor and blend until finely crushed. Add the butter. Process until combined.
Spoon into pan and press over base. Chill in the fridge for 30 minutes.
Meanwhile, process cream cheese, Greek yogurt and extra lemon juice in a food processor until smooth. Add eggs and lemon rind and process until combined.
With motor running, add chocolate and process until smooth.
Spoon one-third of the strawberry mixture over the biscuit base.
Pour over the cream cheese mixture.
Top with remaining strawberry mixture and swirl the strawberry mixture through the cream cheese mixture with a butter knife.
Bake for 30-35 minutes or until just set.
Turn oven off and leave in oven, with door ajar, to cool. Place in fridge to cool. 14. Add toppings if you're like and then enjoy!
Did you know? Macadamia nuts are good source of monounsaturated fats which is helpful in managing cholesterol levels.
"A perfect sweet treat." – Teara, NSW
Yummy in my Tummy Cake
Serves 8
Ingredients
1 1⁄2 cups white sugar
1⁄2 cup light brown sugar
4 eggs
1 1⁄2 cups coconut oil
1⁄2 cup freshly squeezed orange juice
6 medium carrots, peeled and grated
1 medium zucchini, grated, and excess water squeezed out
2 1⁄2 cups plain flour, sifted
1 1⁄4 teaspoons ground cinnamon
1⁄2 teaspoon ground nutmeg
1⁄4 teaspoon ground cloves
1 1⁄4 teaspoons baking powder
1 teaspoons baking soda (bi carb)
1 pinch salt
1 cup raisins
1 cup chopped walnuts
Ingredient swap:
I used coconut oil instead of butter. I added zucchini and freshly squeezed orange juice.
Instructions
Preheat oven to 170°C.
In a food processor, add the white sugar, brown sugar, eggs, oil and orange juice and mix for roughly 30 seconds until light and creamy.
Empty mixture into a large bowl and stir in grated carrots and zucchini. Then add in sifted flour and mix gently until well combined.
Now mix in the cinnamon, nutmeg and ground cloves. We now add the baking powder, baking soda and salt and mix well.
Add chopped walnuts and raisins and mix until well combined.
Spray a round 20cm x 9cm cake tin with non-stick canola oil and dust lightly with flour.
Pour mixture into prepared cake tin and place on the middle shelf of an oven.
Bake the cake for 1 hour, rotating cake halfway through for an even cooking process.
The cake will be ready when a skewer inserted in the centre of the cake comes out clean.
Rest cake in tin for 6 or 7 minutes and then turn out onto a plate.
When cake has cooled completely you can decorate cake with carrot curls and dust lightly with icing sugar.
"This cake I have chosen is my Nanna's old favourite recipe that her mum passed down to Nanna. I chose it because it has a lot of healthy ingredients like carrots, zucchini, orange juice, fruit and nuts... and lots of spices." - Sofia
There you have it - delicious cakes to add to your recipe collection at home. To learn more about Camp Australia, please visit www.campaustralia.com.au.