The popular childhood game attracted over 4,600 participants in Your OSHC and over 9,000 in Rocketeers. Let's take a look at the experience of those involved with this national competition.
The National Handball Championships from a Child's Perspective
There were 12 regional champions at the National Handball Championships and each winner was awarded a $1,000 prize.
Here's what some children had to say about their experience with the competition:
"Thank you Camp Australia, I loved the Handball Competition. I think everyone enjoyed the day and played well. Can you please run a State or National Championship?" - Xavier, 1st place winner from Karingal Primary School, Frankston VIC
"I walked into this competition feeling excited and determined to make it to the end. Never thought that a game I played every day at school with my friends, would become such a fun and competitive game. It was nice to play with kids at my level who enjoy handball just as much as I do. Thank you for the experience Camp Australia, can't wait for the next competition." – Angelo, 1st place winner from Harcourt Public School, Campsie NSW
"It was a fun day. I made some new friends. It was good to verse really kind and good handball players. When I won, I felt happy because I've been playing handball at school every day with my friends." – Jude, 1st place winner from Arndell Anglican College, Oakville NSW
"I enjoyed playing against the other competitors and seeing how great everyone was and can't wait for the next one." – Teiva, 1st place winner at WoodLinks State School, Collingwood Park QLD
"There were a lot of good players at the regional handball competition from other schools and it was an honour to play against them. I had a great day and lots of fun." - Hudson, 1st place winner from Craigieburn South Primary School, Craigieburn VIC
"A kid's game, finally made into a sport at the national level!" – Immanuel, 1st place winner from St John Vianney's Primary School, Mulgrave VIC
"I was very excited to make it into the regional final. I was very nervous playing against kids I didn't know. I had lots of fun. I'm very excited that I won. I love playing handball. Thank you, Camp Australia. – Malakye, 1st place winner from White Hills Primary School, White Hills VIC
Parents in Favour of the Game they Know
It was wonderful to see so many parents and families attend the regional championships to cheer on their child. The support and encouragement from families certainly made for a great atmosphere and cheers from the crowd made the participants extra excited. Here's what some parents had to say:
"Thanks to you and all of your team who put the day together. We would support any future programs you run in the future." - Melissa (1st place winner, Xavier's mum)
"He loved it. We loved it. It was good to have an event like this to keep the children active. We are looking forward for more." - Annette (1st place URC winner, Cooper's mum)
"My son enjoyed the game and is happy to know that he won a prize." - Racquel (2nd place winner, Liam's mum)
"The event was awesome. The event was really fabulous, and we enjoyed it. It was a great event and we are looking forward to more events like this." - Suzanne (2nd place winner, Jaspar's mum)
"As parents on the sideline, the finals were very intense to watch as all the kids played at a high skilled level. We are very proud of how Angelo handled the competition. He was very focused and played with good sportsmanship. It was great to see not only Angelo, but all the kids having fun. What a great game to run as a competition, bringing back childhood memories for us all." – Maria and Joe (1st place winner, Angelo's parents)
"The event was just great." - Casey (2nd place winner, Lachlan's mum)
"The handball competition was a great event for the children. The staff were encouraging, and the children showed great sportsmanship. It was lovely to see their excitement as they moved through the rounds but most importantly to see them having fun! Thanks for a great day Camp Australia." - Jayson and Tamasin (1st place winner, Jude's parents)
"I thought the competition was a great initiative from Camp Australia, seeing my children all eager to practice at home and get to Camp Australia early to practice with their friends was awesome. Well done and look forward to future active events for the kids." - Angelina (1st place winner, Teiva's mum)
"Overall, it was a great initiative and thanks for organising it. We enjoyed it thoroughly. I fully agree with Immanuel. Kids play it every day in pretty much every school. At high levels of the game, it is very enjoyable to watch. So, it was great to see various levels play it out and the finals were nerve wracking." – Prashanth (1st place winner, Immanuel's dad)
Schools Support the National Handball Championships
We were fortunate to have 12 of our partner schools open their school grounds for the regional finals to take place. We thank these schools and trust that they had just as much fun as the children did!
Mordialloc Beach Primary School was one of twelve schools who hosted the regional finals of our National Handball Championships. Over 40 participants from nearby schools competed in the regional finals. What a day to remember with Channel 9 News there filming! We were delighted to receive this note from the Principal at Mordialloc Beach Primary School:
"On Sunday 2nd of May 2021, Mordialloc Beach Primary School hosted the Camp Australia Handball Competition. This was a very exciting event. Students who attend Camp Australia's Outside School Hours School Care Program or holiday programs (Rocketeers) in the area were able to register to enter the competition and compete for a prize of $1,000.
We had a beautiful sunny day for the event, with and parents attending. You could hear the cheers from the parents and supporters as the kids battled it out on the four-square courts, slicing balls like aces in tennis and maneuvering their bodies to make sure 'their' ball did not go out. The Camp Australia Team were there to judge the games and support the event.
The day was hosted by Tom who was very outgoing and passionate about the event. St Kilda Football Club set up their jumping castle and football skill, inflatable activities for the students to participate in. There was a coffee caravan and the school supplied BBQ sausages, cold drinks and icy-poles.
The whole event was filmed by the Channel 9 crew and aired on the news later that evening. On Monday morning the school was abuzz with the students saying, "Did you see our school on TV last night? We were on the news!"
The whole day was loads of fun and a great and active way to celebrate Australian lifestyles of sport and life around beachside Melbourne.
Thank you for a wonderful event." - Sue Leighton-Janse, Principal, Mordialloc Beach Primary School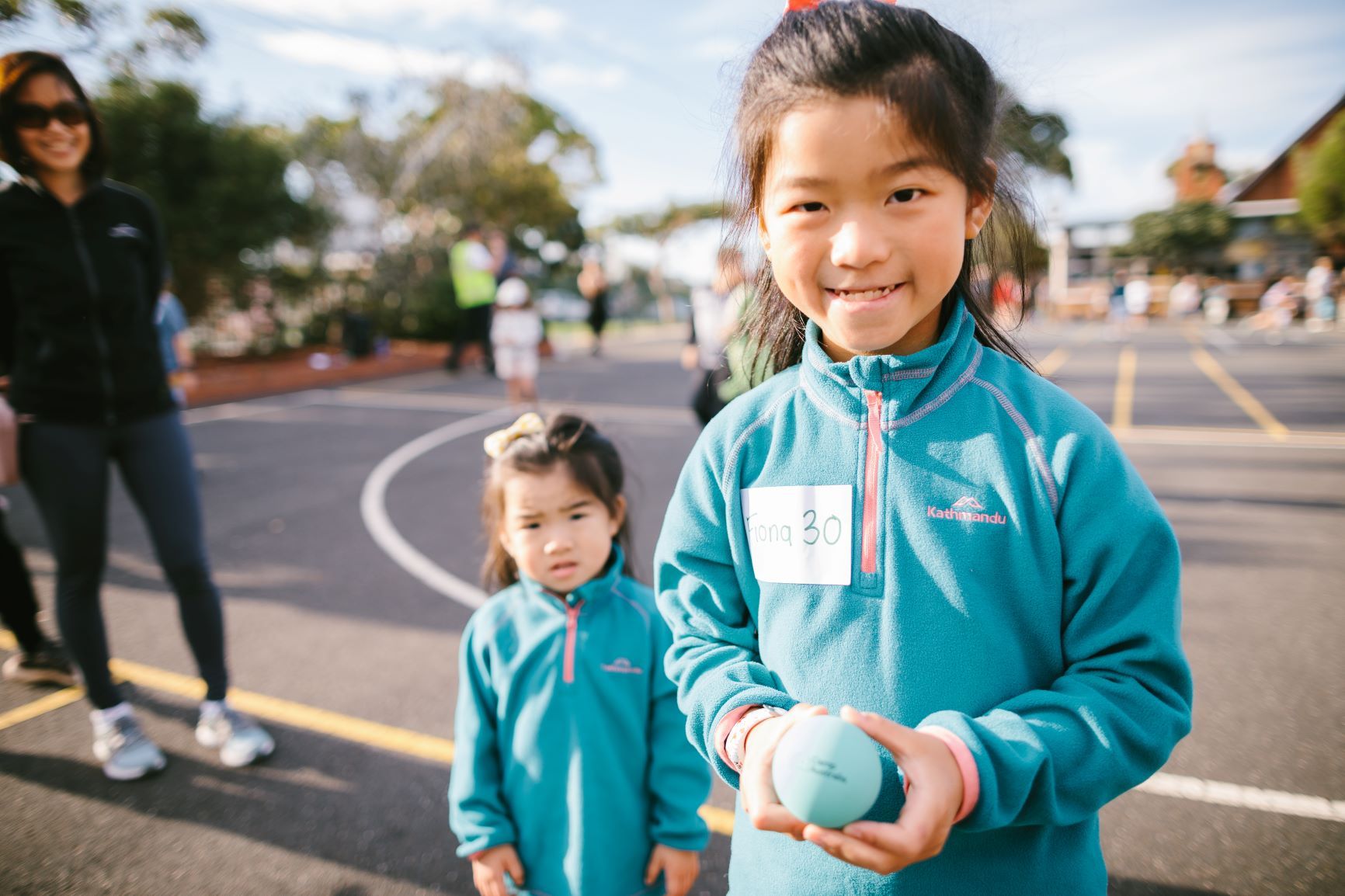 Melville Primary School in WA had a student who won at the regional championships and their Principal has sent through a note to our team:
"The handball competition was a great success and enjoyable It was great to see them honing their skills in a friendly and supportive environment. The clear rules made the games run smoothly in comparison to school games which are often fraught by the many interpretations of some very confusing rules.
Oscar was very excited about getting into the final round of the WA competition, but didn't go to the event with any high expectations of himself.
He said the atmosphere was awesome which spurred on his competitive spirit. Winning was very exciting and the money prize was a very unexpected but welcome bonus.
Melville Primary School community is very proud of Oscar and we think the money we receive is just an awesome bonus too!" - Betty McNeill, Principal, Melville Primary School
To acknowledge the support from our partner schools, the top 6 schools that got their community involved with the National Handball Championships were each awarded a school engagement prize. They could use the prize for anything of their choice, such as new sporting equipment.
The following schools were prize recipients:
Mount Annan Christian College, NSW
Good Shepherd Lutheran College Howard Springs Campus, NT
Regents Park State School, QLD
Bethany Christian School, SA
Sacred Heart Primary School, VIC
Ashburton Primary School, VIC
In addition, each school that had a Regional Champion (i.e. the school that the regional Champion attends) was awarded with a school grant.
Overall, the National Handball Championships gave children an incentive to get active and have some fun with their friends. Thank you to all children, parents, schools and educators for their support.