While summer is a joyous time for kids, it can be stressful for parents. Many parents struggle to manage their schedules while the kids are out of school, and finding activities to keep them occupied away from screens during the day can seem like an uphill battle.
Luckily, holiday camps for kids can provide an ideal solution, offering an array of benefits that include physical activity for children and skill-building. Keep reading as we explore some of the top benefits of camp for kids.
Learning to become a Leader
Many camp activities for kids are designed to develop leadership skills, teaching children how to handle responsibility and model good behaviour for others. Kids have opportunities to lead their peers through a variety of activities, as well as to observe effective leadership skills from their camp crew.
Regardless of your child's age, leadership is a skill that will follow them for years to come. This skill can affect their performance in school and in the years following as they embark upon their career.
Developing Social Skills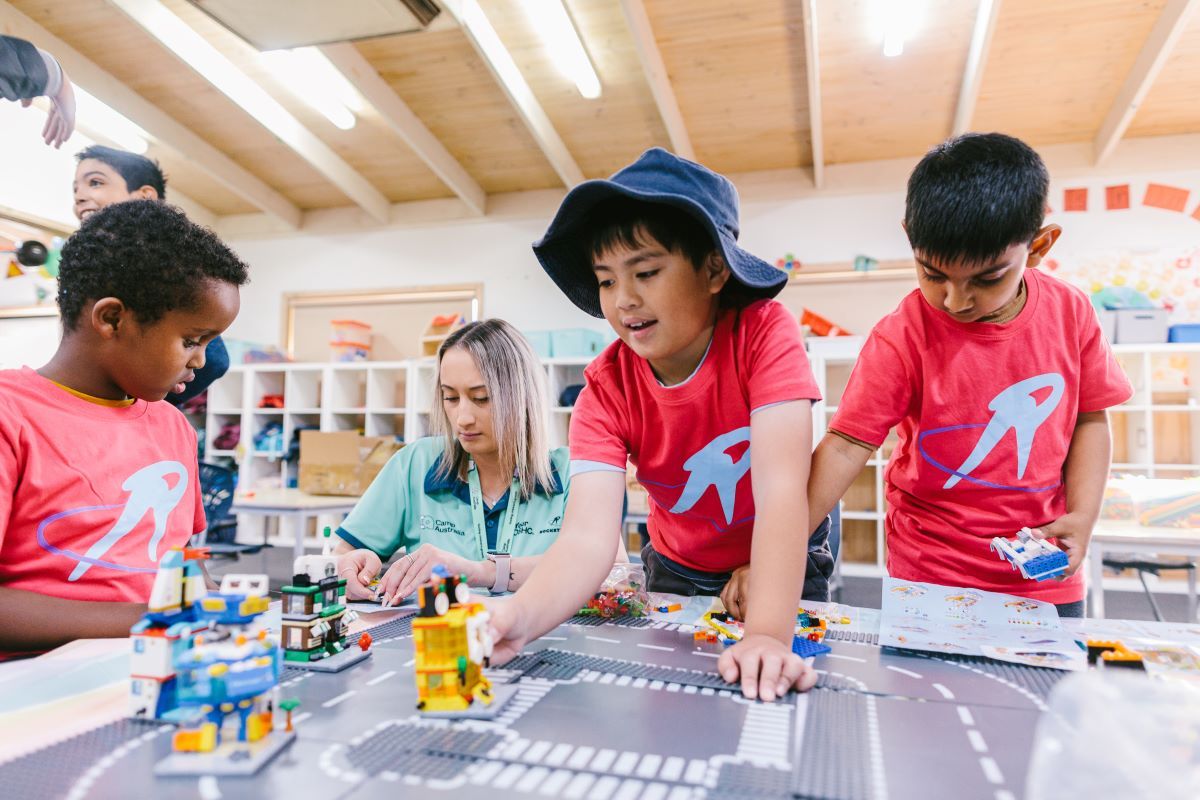 At school holiday camps like Rocketeers by Camp Australia - children have the chance to make lasting friendships with peers they might not otherwise meet. As they spend their days taking part in varying activities together, children can develop stronger social skills. This can lead to increased confidence and better relationships with their peers and their family members.
Less Screen Time and more Physical Activity for Children
While children are using tablets and smartphones more than ever before, it's important for parents to know that current health guidelines recommend no more than two hours of screen time each day.
Instead of screen time, regular physical activity is recommended daily. The Australian Department of Health reports that children aged 5 through 17 who engage in physical activity on a regular basis experience a lower risk of disease and unhealthy weight gain, as well as improved social skills and self-esteem.
Camp activities for kids are frequently rife with physical activity, especially with games and activities like swimming and team sports to help reduce the amount of time they spend in front of screens.
Spending Time Outdoors
As your child spends time with friends and the leadership crew at Rocketeers, they engage in activities that help them understand the world around them. These activities, such as hiking, outdoor sports, and nature walks, can provide an array of emotional benefits, including increased self-esteem, improved self-confidence, and an enhanced ability to understand and assess risks.
Gaining Team-building Skills
Team building is another skill that can help your child do better in school, as well as in their career after they've grown and graduated. At holiday camp, children work alongside peers towards common goals in a variety of ways. Activities including board games, three-legged races, egg drops, and even debates can help your child learn to trust those around them to achieve their goals.
Membership in a Strong Peer Community
Throughout holiday sports camps and other summer camps, children become members of a community that consists of their peers and their crew leaders. They share similar experiences, which can boost their confidence and social skills. On top of that, being a member of a strong peer community can help your child learn to encourage others, which contributes to their ability to act as a team leader, as well as to their overall social skills.
Gaining Resilience
While every child is different, those facing daily struggles at school, at home, or during extracurricular activities may find it easier to stand up for themselves or cope with their emotions after attending a school holiday camp. The emotional skills learned at camp can be transferred to their school life, such as facing challenges with confronting other children or making friends at school.
The confidence your young one can gain in a holiday camp for kids can help them overcome adversity and learn to cope with uncomfortable situations more effectively.
Building Memories that can Last Forever
Looking back on childhood is a pleasant experience for many adults, and for those who feel nostalgic about their younger years, summer is often among the fondest of memories. Registering your children in holiday camps for kids will provide them with the chance to make special memories with new friends they'll cherish for the rest of their life.
Whether you're interested in school holiday camps that take place before and after school, Camp Australia provides tailored options to benefit your child physically, socially, and emotionally.
Children are at the heart of everything we do, and with activities that are specially designed to help develop their confidence and resilience, your child is sure to love the programs offered in Rocketeers by Camp Australia.