Excited. Relieved. Nervous. Anxious. These are some of the feelings that children can experience in the lead up back to school after a long period away. We applaud children for adapting (once again) to the learning from home environment and as COVID-19 restrictions begin to relax, children will experience a phased approach to the return to the school classroom.
Learning from home required some adjustment for families, and it's no doubt that the return back to school will be a (welcome) change. Here are some tips that will help ease children back to some form of normality as it were before the pandemic.
Communication from Your School
In the first instance, emails and video messages from your school will provide you with all of the information regarding start dates and times for each year level and how your school will operate to safeguard against COVID-19. Teachers have been a tremendous support during remote learning and are well equipped to help students transition back into the classroom. In addition, parents with children attending Camp Australia have been receiving regular updates and will continue to receive emails when there is important information to communicate.
Schools may enforce social distancing around the school gate, and it would be a good idea to make sure that your child has a full lunchbox to eat throughout the day as canteens are unlikely to be open.
It is important to follow guidelines from your school and begin to discuss these with your child to check that they understand and are comfortable with the changes when they head back.
Reflect Back on What Has Happened
Talk to your children about the pandemic. If there are changes that your child has made during COVID-19 that they would like to keep, then there is no pressure to make a return straight back to life before the pandemic.
Writing things down and being creative is a great way to show real feelings and emotions. Allow them to give themselves time to reflect and adjust when the time is right. Give your child the freedom to be involved in the process – they know how they feel and helping them to articulate their feelings and emotions gives them the ability to move forward.
Get Back into Your Routine
Andrew Fuller, leading clinical psychologist, points out that we would benefit from starting the year over. Some schools may offer a re-orientation to help students reconnect with their friendship group and teachers.
Andrew also discusses sleep routines and the importance of getting back into a good sleep cycle to function properly to improve learning and mental health. The home isolation routine may have seen some bedtime routines altered, with children going to bed later and therefore waking up later. After all, the home 'classroom' doesn't require travel time and logging onto the computer only takes a few minutes.
As like any other new routine, it's often easier to settle back in when you are prepared ahead of time. Be You consultants recommend getting back into the usual routine earlier so that your child can prepare to head back into the real world.
Ideas on How to Manage Anxiety
Think of returning to a more normal way of life as similar to being back after the school holidays or time off school due to illness. There is always a certain level of apprehension. Returning to our previous life will take time and there are tips to ease us back.
Although children can adapt well to different situations, it is common for anxiety or nervousness to be heightened when heading back to school. After all, children have been safeguarded at home and will need some reassurance that school is a safe place too.
Have an open discussion with your child about their concerns and work through them together. You don't have to find solutions immediately, but the most important factor here is to acknowledge and listen to your child's concerns so that they know they can lean on you.
Continue to Find Ways to Encourage Resilience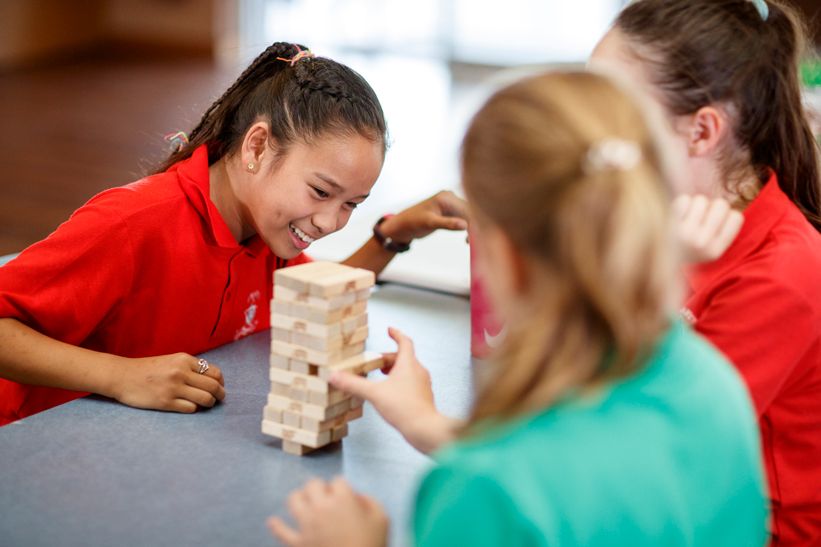 There's no doubt that being resilient has benefited individuals, families and communities throughout COVID-19. In 2020, we asked children what they were excited about post-pandemic. Their response showed signs of resilience and hope when they mentioned the things they were looking forward to, including cooking, teachers, family, holidays, birthdays and getting involved in activities.
The ability to accept change and know that there will be light at the end of the tunnel forms part of being resilient. Yet we all know that a relaxing of restrictions doesn't mean that we're completely out of the pandemic. We still need to remain vigilant and being able to remain resilient will help us to continue to function in everyday life, no matter what challenges are headed in our direction.
Camp Australia educators are looking forward to having all children back in before and after school care. They are there to assist children back into transition so that they are not overwhelmed when navigating back to school. There will be a focus on reconnecting with friends and fun activities to build confidence in children. If you would like to discuss your child's individual requirements with us, please talk to our friendly Coordinator at your service or visit https://www.campaustralia.com.au/your-oshc.