National Handball Championships 2021

Our very first National Handball Championships has come to an end – congratulations to all 13,600 handballers across Australia that came together to battle it out in the nation's favourite childhood game.


Whether your child calls it Handball, Downball or 4-Square, it's the game they know and love - and we hosted the biggest ever National Handball Championships, to give them their chance to shine!
The championships started in Term 1 this year with 4,600 children participating in Your OSHC competitions and over 9,000 competitors battling it out during our Rocketeers Autumn program. It was an excellent way for us to welcome everyone back and get children active again following a year of lockdowns and increased screen time.
As dawn cracked on Sunday 2nd May, hundreds of handballers all across Australia rose with excitement, eager to prove that they were the Ultimate Handball Champion at the big events - the Handball Championships Regional Finals.
A massive amount of work went into Sunday's 12 Regional finals held across the country. Around 400 children played 230 hours of handball in just one day, with countless family and friends cheering from the sidelines. There were creative serves, intense rallies and absolutely awe-inspiring strikes. We saw wonderful displays of fairness and integrity, with older players guiding their younger competitors and fairness in judgement from all present.
Whilst every child was a winner from the event, we had 12 Champions that stepped up on the day to take home the win and the $1,000 prize!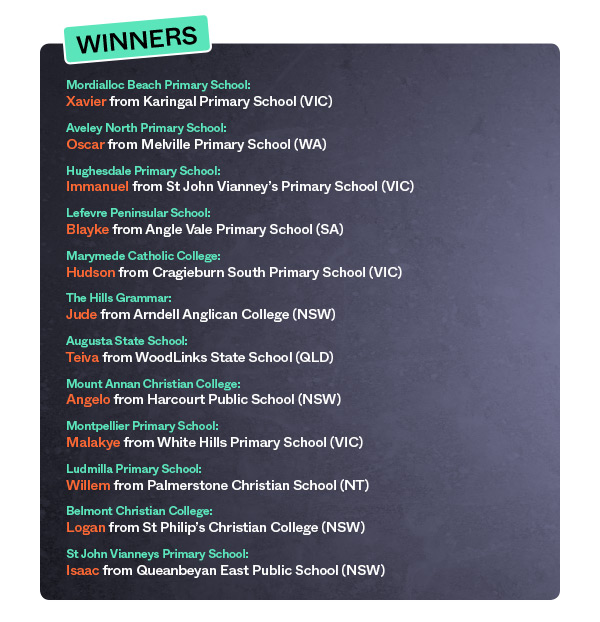 In addition to the Regional Championships, we hosted an online competition for those families who live too far away from the Regional Championship locations - the Ultimate Rally Championship (URC)!
The URC saw entries from five states, and we are excited to announce that Cooper from NSW Nowra Anglican College came first winning $750, second place Samuel from QLD Baringa State Primary School winning $500 and third Shanna from NSW Our Lady Star of the Sea winning $250. The winners have been judged by our official partner Handball Australia.
We are very excited and proud that the event resonated with children, families and principals, and also sporting stars from around the country, who showed their support with messages to the children competing or prize donations, including: Ash Barty, St Kilda Football Club, Mitch McGovern of Carlton Football Club, Kara Antonio of Fremantle Football Club, Ed Ware the current Stawell Gift Champion.
We want to thank everyone who has been part of this incredible competition and making it the roaring success that it was. Keep an eye out for some feedback surveys and we're sure that we'll see you next year for the second instalment of the National Handball Championships.


About Handball
Handball, also known as Four Square and Downball, originated over 70 years ago, and has been played by primary school children ever since. As the bell rings throughout the classroom, signifying the stampede toward the ashphalt, children get that rush and sense of excitement – knowing the daily tournament is about to begin.

To start 4 squares are marked out, one child per square - with a line up of children eagerly awaiting their chance at glory. The child in prime position, serves the ball by bouncing it in their square in the direction of another player. The play is then returned as the ball bounces within their square and across to another player. Ultimate glory is when a player's shot is unreturned, or a foul play is made. The undefeated players of the round move up to the next position, and the player who fouled moves back into the line to await their next chance.

Partner
Handball Australia –We have partnered with Handball Australia to be able to provide children in our service with the ultimate experience. Handball Australia create professional, enjoyable and engaging handball programs for school incursions, and holiday programs. Being the experts at the sport we reached out to them to put together an amazing experience for the children in our care.